Speaker stands not included.
Highlights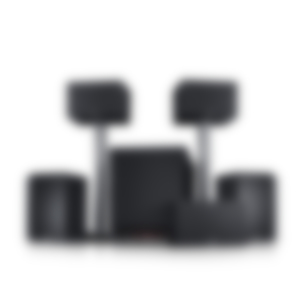 Why we love this product
Identical to the System 6 THX 5.2 set, except with only one subwoofer, the 5.1 set is suitable for rooms up to 35 m².
Key advantages at a glance
5.1 high-end home cinema set for superior quality movie sound and music playback
With only one subwoofer unlike the System 6 THX: ideal for medium-sized rooms.
Absolute tonal balance over the entire frequency range
Powerful S 6000 SW subwoofer with 300mm woofer and 250-Watt power for deep, powerful bass, optional wireless control
2-way flat membrane satellite speaker for full, detailed sound
3-way dipoles with integrated rear bass driver for an authentic cinema atmosphere
Suitable for AV receivers with and without THX license
Speaker stands not included.
Features
All technologies at a glance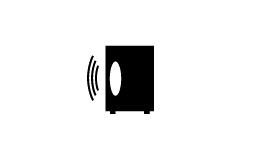 Front-firing subwoofer
Compact speakers, big sound
The system's satellites were optimized by our Berlin acousticians in an elaborate series of measurements and adjustments, a process that resulted in the best performance in this price class.

The flat membrane midrange drivers lie flush against the enclosure and offer the following advantages: Reduced phase shifting, minimized distortion and no frequency gamps.

The System 6's acoustic highlights include:
A 2-way system for silky, detailed highs and a strong, warm midrange
Double midrange drivers for excellent speech intelligibility
Flat membranes for reduced phase shifting between the midrange drivers and tweeters resulting in a precisely structured soundstage
Long-throw drivers for high, distortion-free levels
Broader dispersion for optimal sound at every listening position
Dark matte finish for inconspicuous room placement

Two grille options
The System 6 comes with two different sets of grilles. The cloth set gives the system an elegant touch. Those with small children or curious household pets, however, may want to go with the metal mesh option. Both were designed to have minimal effect on the sound.
Refined bass power
The S 6000 SW is an advanced model universal subwoofer from Teufel: engineered in Berlin. Overview of highlights:
Front-firing for refined sound production

300 mm chassis for cut-off frequencies down to 25 Hz
Nearly double sized bass reflex port for less distortion at extreme frequencies

Extremely low-noise and efficient power amplifier for clearer levels and less power consumption
Wireless connection available with SubConnect MOD for compatible devices (i.e. ULTIMA 40 Active), or optional Subwoofer Wireless Transmitter

Automatic on/off
A wealth of configuration options (volume control, phase switch, auto dynamics and HP (high-pass) filter)
Designed for AV receivers with or without THX licensing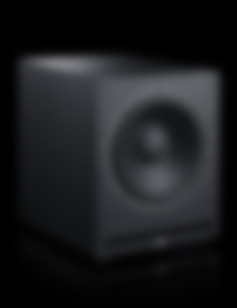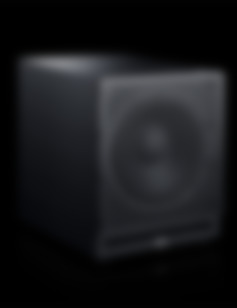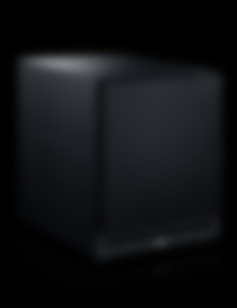 Authentic 3-way dipoles
The loudspeakers' design isn't just elegant, it's highly functional. The matte surface reduces reflections that could muddy the system's otherwise perfect cinema sound. Each satellite is only 15 cm deep, allowing for easy wall mounting. Integrated keyhole openings on the back of the satellites are included on the rear dipoles as well. The speakers are compatible with speaker stands AC 7001 SP, available separately.
Loudspeaker tuning is identical to the front speakers
Integrated wall mounts for flexible setup options
Robust, gold-plated screw terminals (work with banana plugs) connect easily to cables up to 4 mm²



Included components
System 6 "5.1-Set"
3 × Satellite Speaker S 600 FCR – Black
1 × Subwoofer S 6000 SW – Black
1 × Pair Dipole Speaker S 600 D – Black

1 × Dipole Speaker S 600 D (Left) – Black
1 × Dipole Speaker S 600 D (Right) – Black
Speaker stands not included.
Specifications
Satellite Speaker S 600 FCR

2-way satellite speaker with flat-membrane midrange drivers.

| | |
| --- | --- |
| Width | 31 cm |
| Height | 20 cm |
| Depth | 15,2 cm |
| Weight | 4 kg |

| | |
| --- | --- |
| High Level speaker inputs | 1 |
| Terminal clamps | Screw terminals |
| Minimum amplifier output power recommended | 40 W |

| | |
| --- | --- |
| Suitable for AV receiver | Yes |
| Suitable for banana plug | Yes |
| Maximum cable diameter | 4 mm |
| Diameter of the stand screw threads | 6 mm |
| Removable front cover | Yes |
| Enclosure material | MDF |
| Enclosure surface | Lacquer |
| Net internal volume | 5,5 L |
| Keyhole plate mounted | Yes |
| Wall mounting brackets | Yes |
| Tweeter (number per enclosure) | 1 |
| Tweeter (diameter) | 25 mm |
| Tweeter (material) | Fabric |
| Bass/Midrange driver (number per enclosure) | 2 |
| Bass/Midrange driver (diameter) | 130 mm |
| Bass/Midrange driver (material) | cellulose |
| Continuous power handling (IEC - Long Term) | 130 W |
| Sensitivity (2.83 V / 1 m) | 91 dB |
| Frequency range | 80 - 22000 Hz |
| Peak power capacity (IEC - Short Term) | 180 W |
| Maximum sound pressure level | 108 dB/1m |
| Impedance | 4 - 8 Ohm |
| Crossover frequency to Woofer (recommended) | 80 Hz |
| Acoustic principle | 2-way-system |
| Enclosure type | Closed |

Subwoofer S 6000 SW

High-end subwoofer with wireless connection option

| | |
| --- | --- |
| Width | 37 cm |
| Height | 47,4 cm |
| Depth | 54 cm |
| Weight | 23,6 kg |

| | |
| --- | --- |
| Cinch input | 1 |

| | |
| --- | --- |
| Power supply voltage | 230 V |
| Automatic on/off | Yes |
| Maximum power consumption | 250 W |
| Mains cable - IEC connector (non-heating device) | Yes |
| Safety class | 2 |
| Storage for settings when disconnected | Yes |
| Standby-Function | Yes |
| Standby-Power consumption | 0,4 W |
| Input gain adjustment | Yes |
| Frequency regulator (range) | 20 - 50 Hz |
| Level control | Yes |
| Phase control | Yes |
| Power output capacity sinus (RMS) Bass | 240 W |
| Amplifier configuration | 1.0 |
| Amplifier technology | Class D |
| Amplifier channels | 1 |

| | |
| --- | --- |
| Lowest frequency (-3 dB) | 25 Hz |
| Suitable for AV receiver | Yes |
| Equalisation openings (pos.) | Front |
| Equalisation openings | 1 |
| Removable front cover | Yes |
| Frontfire | Yes |
| Enclosure material | MDF |
| Enclosure surface | Laminated, matte |
| Net internal volume | 55 L |
| Integrated stand | Yes |
| Woofer (number per enclosure) | 1 |
| Woofer (diameter) | 300 mm |
| Woofer (material) | cellulose |
| Frequency range | 25 - 200 Hz |
| Maximum sound pressure level | 110 dB/1m |
| Acoustic principle | 1-way-system |
| Enclosure type | Bass reflex |

Dipole Speaker S 600 D (Left)

3-way dipoles with integrated bass woofers

| | |
| --- | --- |
| Width | 33,5 cm |
| Height | 35 cm |
| Depth | 15 cm |
| Weight | 7,2 kg |

| | |
| --- | --- |
| High Level speaker inputs | 1 |
| Terminal clamps | Screw terminals |
| Minimum amplifier output power recommended | 40 W |

| | |
| --- | --- |
| Suitable for AV receiver | Yes |
| Suitable for banana plug | Yes |
| Maximum cable diameter | 4 mm |
| Diameter of the stand screw threads | 6 mm |
| Removable front cover | Yes |
| Enclosure material | MDF |
| Enclosure surface | Lacquer |
| Keyhole plate mounted | Yes |
| Wall mounting brackets | Yes |
| Tweeter (number per enclosure) | 2 |
| Tweeter (diameter) | 25 mm |
| Tweeter (material) | Fabric |
| Midrange driver (number per enclosure) | 2 |
| Midrange driver (diameter) | 100 mm |
| Midrange driver (material) | cellulose |
| Woofer (number per enclosure) | 1 |
| Woofer (diameter) | 130 mm |
| Woofer (material) | Fibreglas |
| Continuous power handling (IEC - Long Term) | 110 W |
| Sensitivity (2.83 V / 1 m) | 86 dB |
| Frequency range | 80 - 22000 Hz |
| Peak power capacity (IEC - Short Term) | 160 W |
| Maximum sound pressure level | 106 dB/1m |
| Impedance | 4 - 8 Ohm |
| Crossover frequency to Woofer (recommended) | 80 Hz |
| Acoustic principle | 3-way-system |
| Enclosure type | Closed |